Walk in to Angelo's Stuffed Pizza at 4850 S. Pulaski in Archer Heights and you'll more than likely see owner Adrian Zamudio behind the counter, greeting customers and taking orders; other family members might be making pizza in the back or waiting on tables.
The open plan restaurant includes multiple TVs for viewing sports and free wifi for getting work done over lunch. The vast menu is displayed on a lit menu over the counter, with a spinning pizza warmer and several refrigerators housing drinks.
In Crust We Trust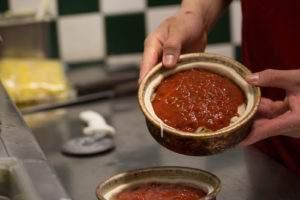 While Angelo's has a diverse menu, they are known for their pizza. Their speciality is their stuffed pizza: crust layered with toppings, cheese, more dough, then sauce on the top. The family-owned restaurant makes their pizza dough fresh daily and grinds their cheese fresh every day as well.
The pizza has accumulated many accolades, being featured on Chicago's Best and Hungry Hound, while also being named one of the businesses of the month by Illinois State Senator Martin Sandoval and awarded a family achievement award by MassMutual.
Passion for Pizza and Community
Adrian's passion for making pizza and making customers feel like family can be seen in his dedication to the restaurant. He's seen the business through a lot of ups and downs, even though he was only eighteen when he took over Angelo's. He's kept working, knowing that when one thing doesn't work out, something else will. His combination of passion and discipline has helped keep Angelo's a business people return to time after time.
Since opening 26 years ago, Angelo's has become an Archer Heights staple. Neighborhood kids frequent the pizza place during off-campus lunches or for afternoon snacks. Locals from the surrounding area have been frequenting the restaurant for years and keep coming back. The TVs on the walls lend themselves to watching baseball, basketball, or soccer games with friends. The free wifi comes in handy when group school projects or professional meetings are in order.
Besides the location on Pulaski, Angelo's Stuffed Pizza participates in community events: they serve food at local fundraisers and festivals. They help with local Chicago Public School programs and donations and sponsor neighborhood youth teams. Most employees live in the neighborhood and help out with community service events.
Adrian has worked hard to build Angelo's from a delivery business to a dine-in restaurant. Over the years, they've expanded and remodeled, listening to customer feedback and input. Recently, he added floor to ceiling retractable windows that allow for an open air dining experience.
Without customers and the support of the neighborhood, Angelo's Stuffed Pizza wouldn't be what it is today. Adrian's hard work and passion for the business has certainly paid off, but so has treating his customers like family and listening to their feedback.
Visit Angelo's Stuffed Pizza to experience an Archer Heights hidden gem and Adrian's family hospitality.
All through June 2018, like SSA 39's Facebook page and show this paragraph to receive 10% off or 15% of a dine-in order. Not valid with other offers.