When Dr. Reshma Dhake bought her current practice, Forever Dental, from the previous owner, she was drawn to the family-oriented community she saw in Brighton Park. Her office reflects that community: many employees live in the neighborhood, whole families come together, and patients bump into their friends in the reception area. The bright and welcoming waiting room sets patients at ease as they wait for their appointment.
Comfortable Environment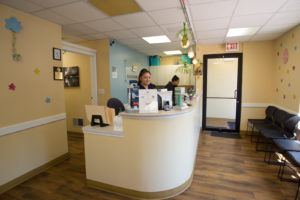 Down the hall from the reception area, there are six patient chairs, each with their own alcove and TV for patient viewing. When Dr. Dhake first bought the practice on Archer Avenue, the building was half its size and could only accommodate three chairs. Now, eleven years later, the practice has grown and she has been able to build an addition behind the existing building to be able to add three more chairs and other rooms.
Dr. Dhake's friendly staff includes several other general dentists, an orthodontist, and a team of support staff, including hygienists and dental assistants. Dr. Dhake graduated from the University of Illinois at Chicago College of Dentistry and is a member of several associations, including the American Dental Association and the Chicago Dental Society.
Helping Others
But Forever Dental isn't just in the dentistry business, they're in the people business: they want to strive to help others be better by providing compassionate care in a safe and comfortable environment. Dentistry is just one part of taking care of oneself holistically and Forever Dental strives to help their patients be healthy. The doctors and staff explain all of the patients' options to them, including financial options available. They want their patients to have as much knowledge as possible to be able to empower them to make the right decision for themselves. The Forever Dental mindset is never having a patient say, "If I had only known."
Another way Forever Dental helps their patients is with the membership plan they have to help those without dental insurance. Knowing that dental procedures can be costly to working families, Forever Dental has put together a program that saves members money while also encouraging them to get the dental treatment that is important to their overall health. There are children and adult memberships available, making sure the whole family can participate.
Experience the safe, welcoming, and comfortable environment of Forever Dental for yourself when you book an appointment with Dr. Reshma Dhake or one of the other dentists in the practice.
If you book an appointment for July 2018, like SSA 39's Facebook page, and show this paragraph, you'll receive a special Forever Dental goody bag. One per family.