Convenient Clothing On Archer Ave. In Brighton Park
"Come In And Get In Our Pants" – Pants Box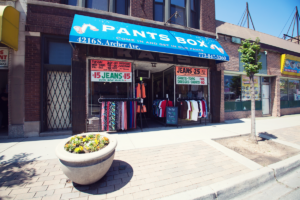 Occupying a humble section of Archer Ave, the Pants Box clothing store is much more than meets the eye. Underneath a blue banner, the storefront proudly displays the most comfortable and fashionable styles behind the large glass windows. Their motto, "Come In And Get In Our Pants", is funny and indicative of their atmosphere: relaxed and ready to help you find the perfect fit.
Walk inside and you'll be greeted with smiling faces and deals sure to have you grinning, too. The Pants Box prides itself on having a large selection at an affordable price point to cater to all your needs. There's no doubt you'll be walking out of there in a pair of their pants, too!
From Their Head To Your Feet for Generations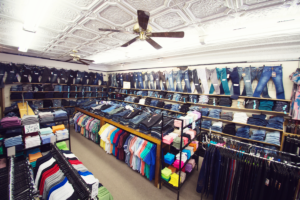 Opened in 1970, the Pants Box has helped give people style within the Brighton Park and Archer Heights neighborhoods for nearly 47 years. They've seen just about everything and everyone and kept up with the trends too. The environment, just like their clothing, is as comfortable as slipping into a fresh pair of jeans. Roger, the owner of the establishment, looks over his inventory with pride. He's helped build a clothing store by the people, for the people. From parents to their kids to their kid's kids, the Pants Box has assisted in innumerable trends over its long lineage. In 2018, it will continue to help the community stay warm in the winter and cool in the summer.
General Clothing Store – Genuine Experience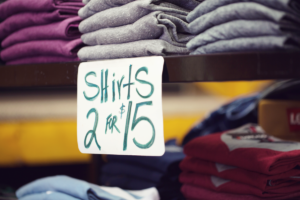 The Pants Box offers a wide variety of clothes to choose from, anything from shirts to pants to dresses and so much more. They carry clothes in all sizes and all styles. You can stop by for everyday wear, to swimwear, or more formal wear all under one roof. As a general clothing store, the selection is as vast and varied as the people who enter, because everyone deserves to look good. They are also incredibly accommodating in their stellar customer service, to them the customer is always valued. When you walk in through their doors, you're certain to exit feeling even better about the clothes you've picked.
More Than Just Jeans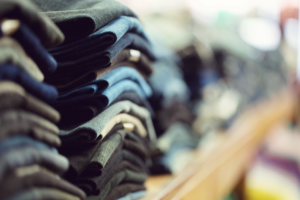 But looking good is not the only goal, they want you to feel confident in the money you've saved. After all, paying only $15-$25 for jeans should boost your confidence right up! The Pants Box, aside from boasting reasonable prices, also has a rich history within the neighborhood. Rodger's helped dress many of the residents here, and it always makes him happy to see them walk away with something to keep them stylish. He's woven his way into the fabric of Brighton Park's community, by providing people with many different types of clothing.
He and his employees understand that traveling the long way to the nearest shopping mall can be a strain on your wallet, so they want to ease that. By having such a convenient location, you can easily drop by the store on your way home from work, or pop in on a weekend and see what special deals they have. It's 'right around the corner' aesthetic makes it a hit with the locals, and soon you're bound to be coming in too.
Clothing Store with a Neighborhood "Feel"
Despite the name, the Pants Box has more than just pants. There are comfy shirts for everyday wear, cute shorts to beat the summer heat, and beautiful dresses perfect for any occasion. The people of Pants Box understand that your style may change daily, and thus have all the kinds of clothes you could need. You won't have to go to three different stores at your mall to find what you'd like, the Pants Box has you covered.
If your closet or dresser is looking a little light for the fall, stop on by the Pants Box! There's something there for everyone, no matter the occasion or season, and it'll be light on your wallet too. Located at 4216 S Archer Ave, the store is only a stone's throw away from the TCE Bank.
Like SSA 39's Facebook page | Show this Blog | Receive 20% OFF at PANTS BOX